12V 150Ah Lithium Battery is deep cycle battery that is designed for replacing Lead Acid Batteries
12V 150Ah Lithium Battery
MANLY lightweight 12v battery is the perfect replacement for old lead-acid batteries. Our popular 12v 150ah lithium battery is only a third of the weight of traditional batteries. But lighter doesn't mean shorter. This little powerhouse can outlast more than 8000 cycles. Plus, it delivers double the power of lead-acid batteries, even at high discharge rates, while maintaining a strong energy capacity.
But we don't stop at long-lasting. MANLY 150 lithium battery comes with tailored protective features. It guards against short circuits and overcharging. It also protects from over-discharging. A balanced circuit? Yep, it's in there. You can even connect multiple series in parallel. With Manly Battery, you get power, safety, and versatility.
Product Description:
1. Model            Number: MLP12150A
2. Nominal        Capacity: 150Ah
3. Nominal          Voltage: 12.8V
4. MAX  Charge  Voltage: 14.6V
5. MAX  Charge  Current: 150A(Customization)
6. 10-years warranty & 20+ years service life
7. The Max connection in series / in parallels: Support 4 series and 4 parallel
8. Customization Support: Including voltage, capacity, current, size, appearance, etc.

Environmentally friendly:

12V 150Ah LiFePO4 Battery does not contain any harmful heavy metal elements, pollution-free both in production and actual use.

Long Cycle Life:

This 12V 150Ah battery is with over 5000-time charge and discharge cycle life, after that, the capacity left is still 80% of the original value, the self-discharge rate is much lower than the li-ion battery and lead-acid battery;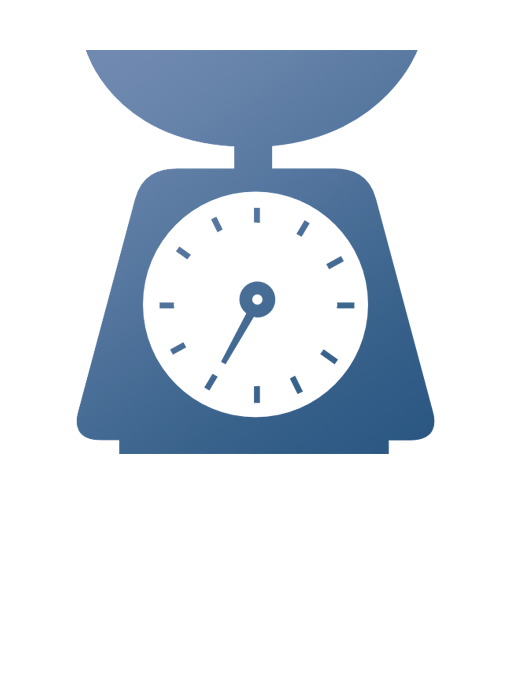 Light in weight:
12V 150Ah LiFePO4 Battery is only approx. 1/3 of lead acid battery in weight;

Customized &Save Time:

Battery cells, size, capacity, voltage, connector…most parameters can be changed according to your request. You don't need to take too much time to search for an existing model
Application of 12V 150Ah Lithium Battery
1)Energy Storage: PV Energy Storage, UPS, backup, power station;
2)EV: Golf trolleys, Electric scooters;
3)Solar System: Solar Home System, Solar Street Light, Solar CCTV
4)Telecommunications Base Stations;
5)Others: Emergency Light, Miner's lamp, portable power supply, digital products, Roboticsetc, AGV/RGV/AMR, etc.
Product Details:
MANLY Battery has 13+ years lithium battery supplier, manufacturer, and OEM. Our comprehensive battery manufacturing facility encompasses a noteworthy 6,500 square meters. Our top product line includes the 12V lithium battery series, with the 12V 150Ah battery being highly coveted by our customers.
The 12V 150Ah LiFePO4 battery that we offer employs top-tier LiFePO4 cells with a minimal self-discharge rate and a tailored low-power battery management system. This ensures long storage intervals and minimal maintenance needs. Additionally, our 12v 150ah lithium battery is known for its battery-balancing functionality. With our Battery management system, high charging and discharging efficiency, and long service life are ensured.
Its lightweight characteristic, weighing less than half of lead-acid batteries, allows for compact product design, reducing costs and system complexity. Offering longevity, high power output, and multiple protection features, our 12V 150Ah LiFePO4 Battery is versatile and perfect for applications ranging from data centers and communication backup power supplies to medical equipment.
MANLY 12V 150Ah lithium battery stands out due to the 8-year warranty we provide and the multiple certifications it carries. Except that, we offer speedy delivery, and comes equipped with 18-8 stainless steel bolts of sizes 5/16-18 1″ and 1 1/4″, complemented by brass washers and 18-8 stainless steel nuts with nylon inserts. From
Introduction of Manly 12V 150ah Deep Cycle Battery
12V 150Ah deep cycle battery is a type of battery designed for applications that require deep cycling. Great for solar systems, golf carts, marine use, and more. It uses LiFePO4 technology and is lighter and smaller than other batteries of the same power. Plus, it lasts longer and charges more efficiently.
This powerhouse charges fully in less than 2 hours. When not in use, it only loses 2-3% of charge per month, compared to 30% for lead acid batteries. And it runs longer than lead acid and other lithium batteries. Choose MANLY 12V 150Ah deep cycle battery for efficiency and endurance.
Lightweight 12V Battery: 150Ah Lithium Battery
Experience the power of the lightweight 12V 150ah Lithium battery. Weighing only 40lbs, it offers impressive energy storage. Its compact size and fast charging make it ideal for outdoor enthusiasts and indoor tech lovers alike.
Save on equipment weight with the lightweight 12V battery. It offers the same energy as a traditional 12V lead-acid battery but weighs only a third as much. Upgrade to this lightweight solution and enjoy the benefits of reduced weight without compromising on power. Carry it effortlessly and enjoy uninterrupted power for your camping trips and other outdoor activities. Its efficiency and convenience make it a must-have for all your power needs, whether you're on the go or setting up indoors. Discover the lightweight 12V battery and elevate your experience.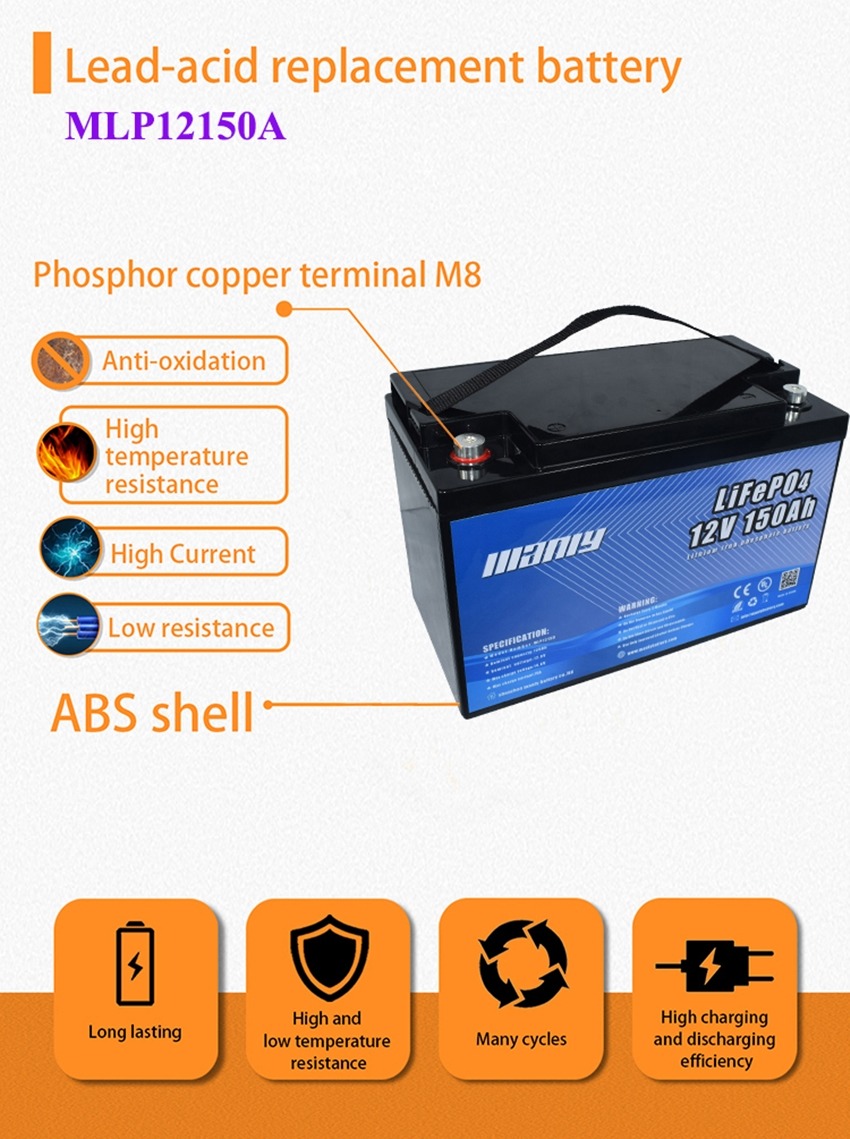 Features Of 12V 150Ah Lithium Battery:
Maintenance-free operation;

The long service life of 10~15 years;

Inbuilt BMS multiple security protection;

High-quality lithium iron phosphate batteries, safe and reliable;

More rechargeable time, longer lifetime, economic and environmental protection.
Specification Of 12V 150Ah Lithium Battery:
12v 150Ah Lithium Battery | 12V 150Ah Battery is a deep Cycle lifepo4 Battery for Wheelchairs
Electric Characteristics

Battery Type

LiFePO4

Nominal Capacity

150Ah

Nominal Voltage

12V

Actual Voltage

12.8V

Energy

1920Wh

Cycle Life

5,000+

Charging and Discharging Parameters

Full charge volt

14.6V

Discharge cut-off volt

10V

Max charge current

1C

Max continuous discharge current

1C

Peak discharge current

14.6V

Suggested charge Volt

14.6V

Operation Temperature Parameters

Charge

0 ~ 45℃

Storage less than 12 months 

-20 ~ 25℃

Discharge

-20 ~ +75℃

Storage l

ess than three months

-20 ~ 35℃

Recommended

18 ~ 28℃

Storage over

12 months

 25 ℃

Mechanical Properties

Dimension Length

485mm

Housing materials

ABS/PVC/Customized

Dimension Width

172mm

Terminal size

M6/M8 optional

Dimension Height

240mm

Cell model

3.2V 50ah/3.2V 6ah

Weight

About 18.5kg

Configuration

4S3P/4S25P

BMS function

Protect battery from Overcharge, Over-discharge, Over-current, Short circuit

Advantage

High safety

(no fire, no explosion)

No memory effect

High energy density

Long lifespan 20+ YEARS

Fast Charge Capability

Waterproof

Individual cell balancing

Easy maintenance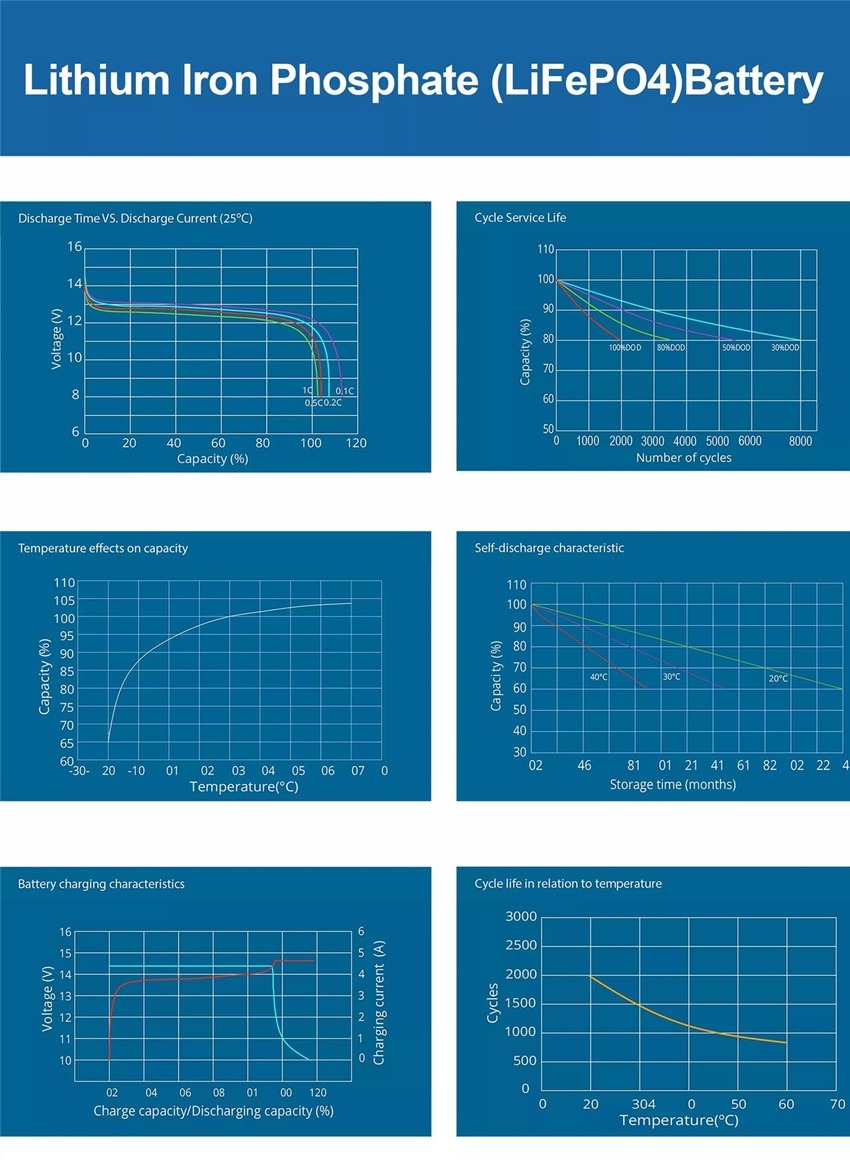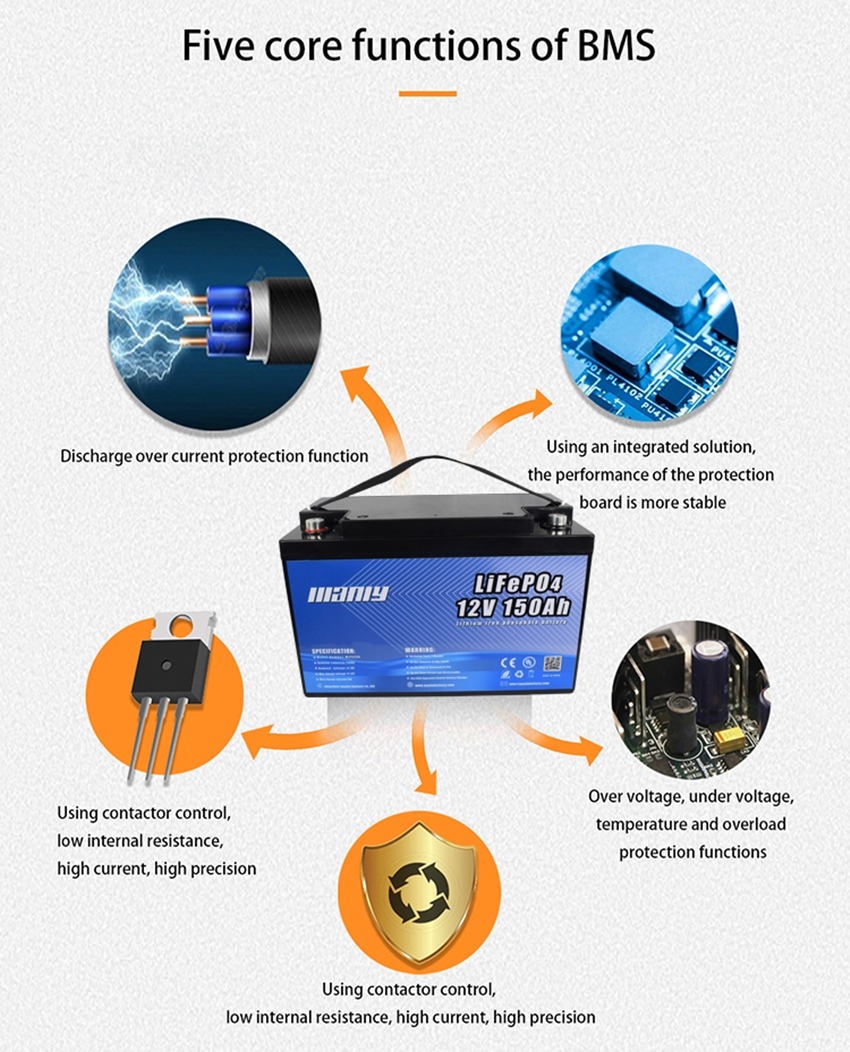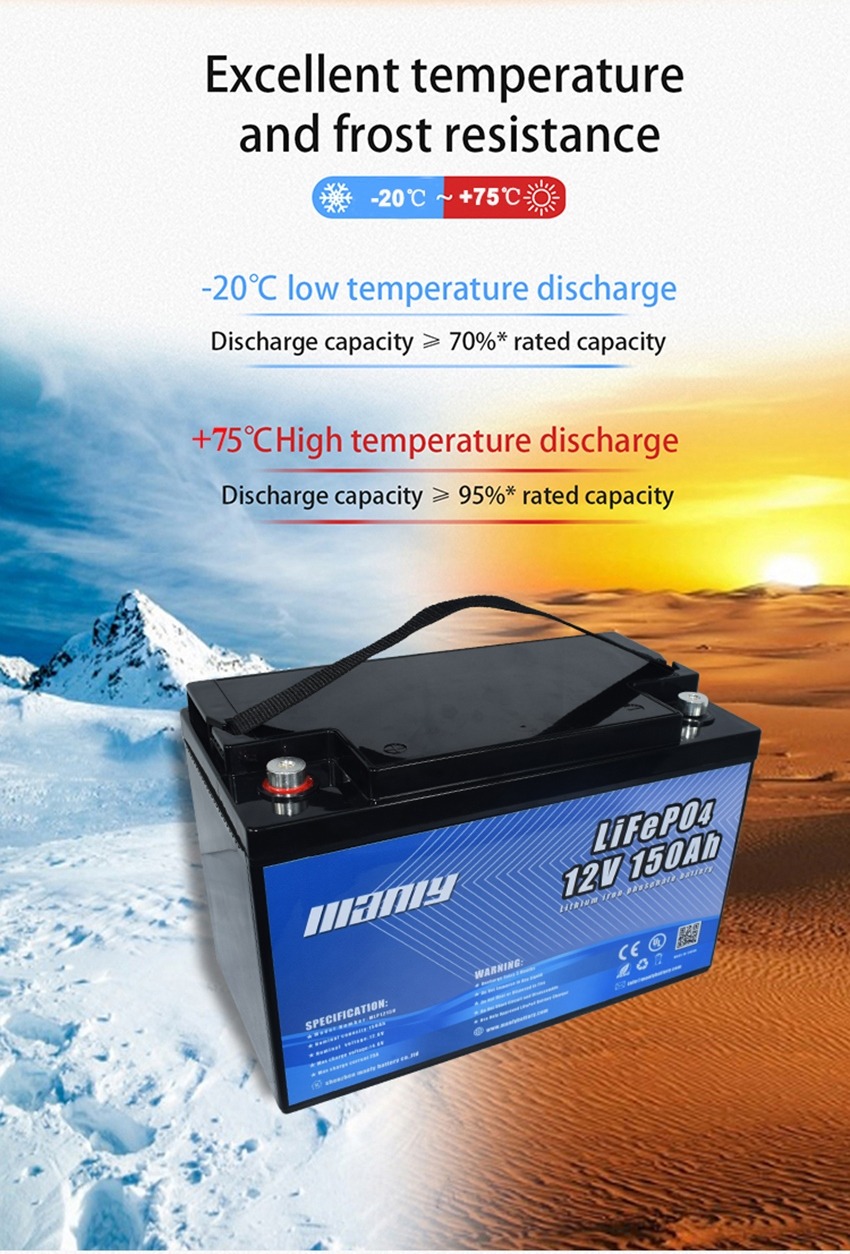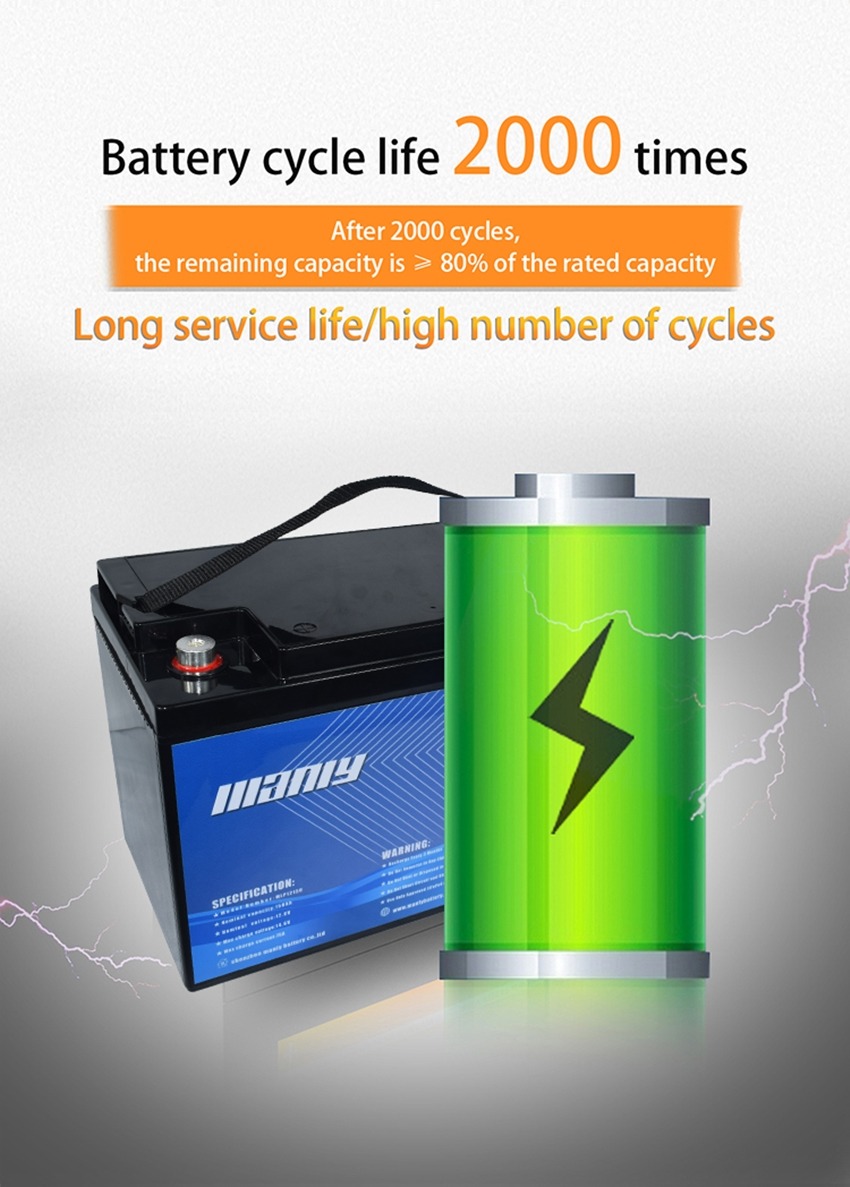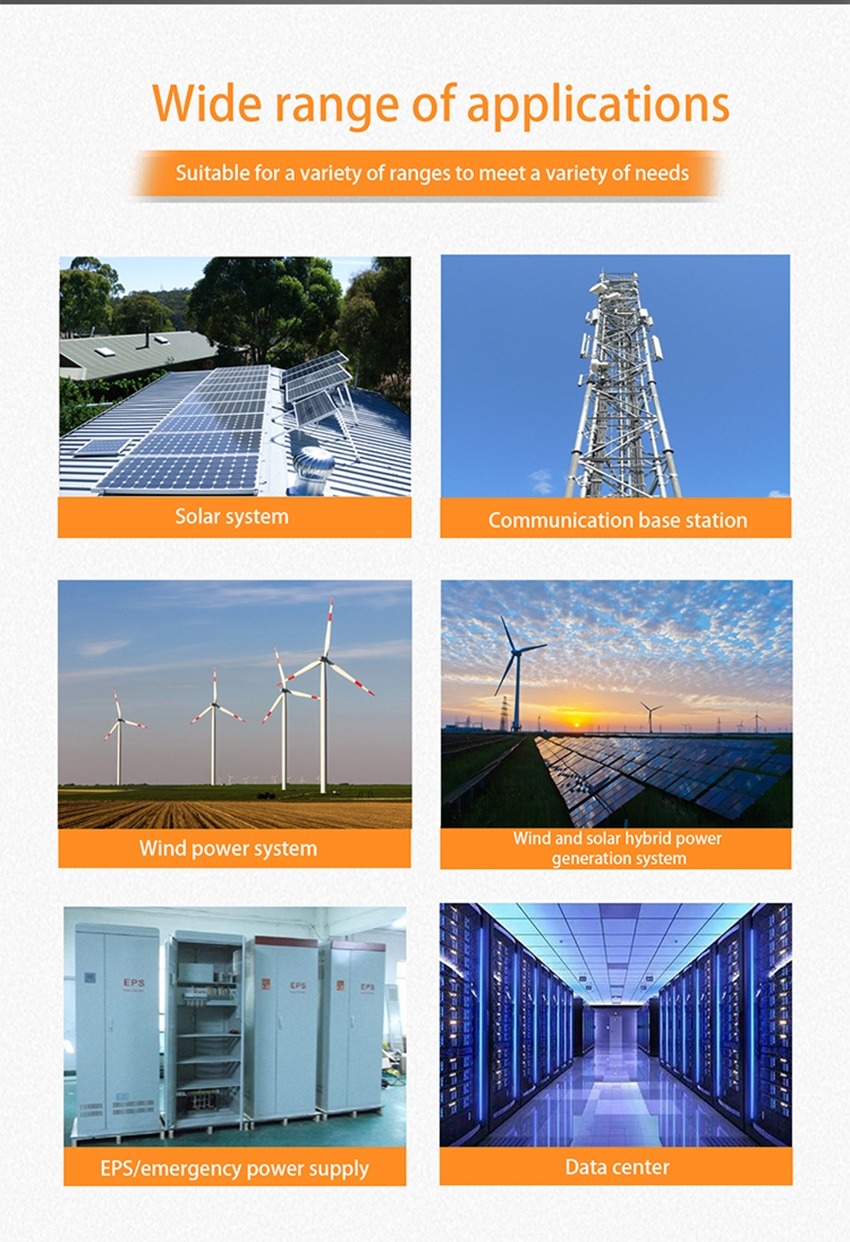 Why choose MANLY:
10 years longer warranty time

OEM/ODM custom is acceptable without MOQ Request

Made of industrial Grade original MANLY factory lifepo4 battery cell with Factory price

With advanced smart BMS (Battery Management System)
Packing & Delivery:
Packaging:
1) Carton box -pallet container.
2) Packaging also can be customized to customers' requirements.
Shipping:
1) Shipping time for news samples is 25-30 working days; mass production is 15~20 working days – since the deposit was received and samples confirmed.
2) Sample order is supposed to be shipped by DHL, UPS, FedEx, or TNT, mass order is suggested to ship by sea, we could supply forwarder service if you need.
Our Services:
OEM & ODM can customize according to your request :
Battery voltage, capacity, and dimension.

BMS charging and discharging current.

Connector, case, and wire.

Your own logo eg: silk print.
After-sales service is available :
Respond in 24 hours to any inquiry on our product.

Take action quickly for a normal customers' claim within 12 hours.

Good after-sales service: We offer 3 years quality warranty for lifepo4 batteries 12.8V 20Ah/50Ah/100Ah/200Ah/500Ah/1000Ah/…

One by one tested before shipment.
FAQ:
1: Is MANLY Battery a trading company or factory?
R: MANLY is a company with its own factory, which integrates research, development, production, and sales.
2:How about is the quality of MANLY's LiFePo4 Battery product?
R: MANLY has 12+ years of experience in lifepo4 battery, is also the authorized supplier of Siemens and BOSCH.
3: Can you do OEM/ODM project?
R: Yes, we have engineers who can help you design and R&D any related products.
4: What's your MOQ?
R: According to your battery voltage and capacity.
5: What payment terms we can accept?
R: TT/Paypal/West Union/etc.
6:What is the recommended charging current for a 12V 150Ah deep cycle battery?
R:The recommended charging current for a 12V 150Ah deep cycle battery is 30A or less.
7:Can a 12V 150Ah battery be used in parallel with a lead-acid battery?
R:No, it is not recommended to use 12v 150ah battery in parallel with lead-acid batteries due to their different charging and discharging characteristics.
8:What is the warranty period for a 12V 150Ah lithium battery?
R:The warranty period is 3 years for 12v 150ah lithium battery.
9:Can I use a 12V 150Ah LiFePO4 battery in cold temperatures?
R:MANLY 12V 150Ah LiFePO4 battery can operate in temperatures as low as -20°C (-4°F). Before shipment, This battery undergo rigorous examination and quality control checks to ensure optimal performance.
10: Can I use a 12V 150Ah battery for solar applications?
R:Yes, 12V 150Ah battery is ideal for solar applications due to their high efficiency, long cycle life, and resistance to temperature fluctuations.
Remark: Our products are customized, so the main data can be changed by customer's requirements.