6.5TWh Surge: Lithium Ion Batteries Power Up
As the heartbeat of the green technology revolution, lithium ion batteries are the force behind the dynamic shift towards vehicle electrification and renewable energy storage. They are not just powering our cars and gadgets but are at the crux of a sustainable future. With the forecast of global lithium-ion battery capacity charging up to a staggering 6.5TWh by 2030, we stand at the precipice of an energy transformation. This growth trajectory isn't just a statistic; it's a testament to the colossal strides being made in green tech, with China at the forefront, North America gaining ground, and Europe not far behind. These advancements in lithium-ion batteries are setting the stage for a cleaner, more efficient world, and we're here to dive into the nuances of this electrifying journey.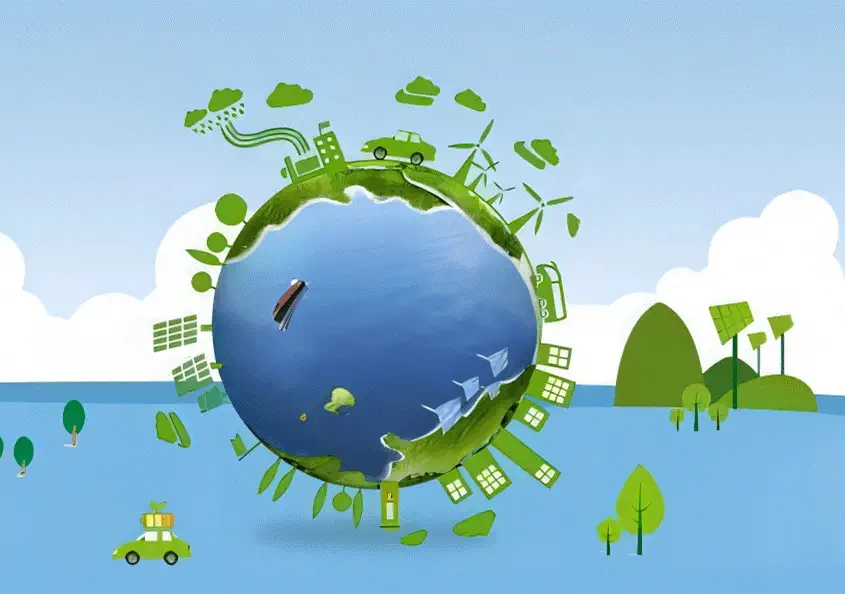 Global Lithium-Ion Capacity to Hit 6.5TWh: A Look at the Future of Green Tech
Two cornerstones of the global green agenda — vehicle electrification and renewable energy storage — hinge on lithium-ion batteries. Projections indicate that by 2030, manufacturing capacity will hit 6.5TWh, with China claiming over half the market share, while North America and Europe are set to host over 1 TWh of lithium-ion battery capacity each.
Lithium-ion batteries play a pivotal role in driving the electrification of the transport sector to slash carbon emissions and are integrated with low-carbon power generation to better buffer the variability of renewable energy. With numerous short-to-mid-term carbon reduction targets catalyzing investments in lithium-ion production capabilities, the demand for batteries is forecasted to surge with a compound annual growth rate (CAGR) of 22.3% from 2022 to 2030. Beyond energy storage and portable electronics, by 2030, the auto and transit sectors will command a staggering 93% of the market share.
As of March, global lithium-ion battery capacity has reached a robust 2.8TWh. Accounting for various capacity expansion or new build plans released over the past few years — excluding potential delays or expansions, as well as tracking of shelved or canceled projects — capacity is on track to double by 2030, reaching 6.5TWh. Planned lithium-ion capacity should be sufficient to meet the surging demands, with the EV sector alone requiring 3.7TWh by 2030.
While China will continue to fuel the growth in lithium-ion capacity production, due to an already significant base, it's projected to cede some market share between 2023 and 2030, with a slower expansion rate. Europe currently trails and is poised to maintain its position as the second-largest market, followed by North America, both expected to exceed 1TWh capacity by 2030. North America's growth is slightly more aggressive, with a CAGR of 22% from 2023 to 2030, compared to Europe's 16%. The boost in North America's output is largely from the U.S., with only two projects in progress in Canada.
India also has ambitious plans to ramp up its lithium-ion battery manufacturing capacity to 145 GWh by 2030, up from a mere 18 GWh currently, positioning it fifth globally by the end of the forecast period, just behind Hungary. The Indian government estimates a need for 120 GWh of lithium-ion battery capacity by 2030 to satisfy the demands of EVs and static storage — a target that appears attainable if projects proceed as planned. India's EV sales are predicted to escalate from just 60,000 units in 2022 to 1.2 million units by 2030, with the U.S. projected at 4.1 million units, as the government aims for a 30% EV adoption rate by 2030.
Meanwhile, Hungary is emerging as a preferred destination for Chinese battery manufacturers, with CATL and EVE already funneling nearly $10 billion into battery plant investments.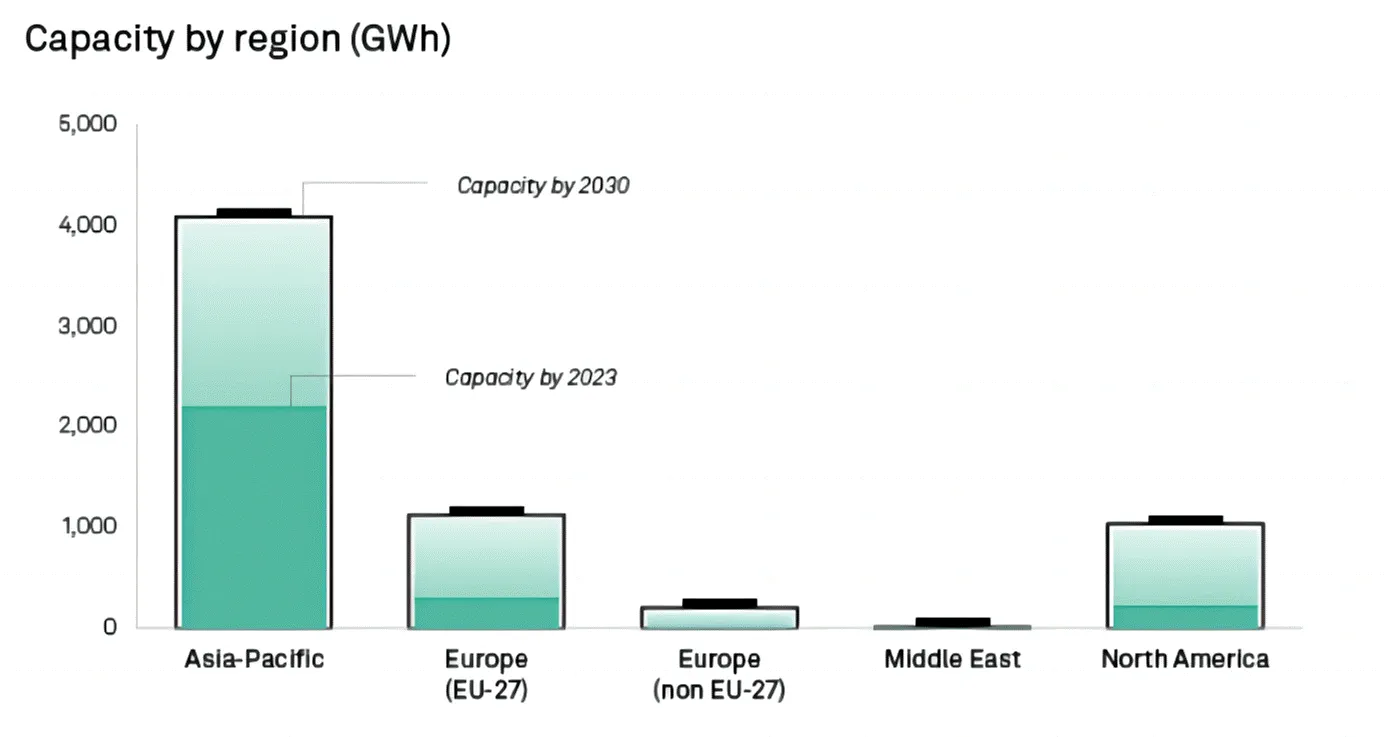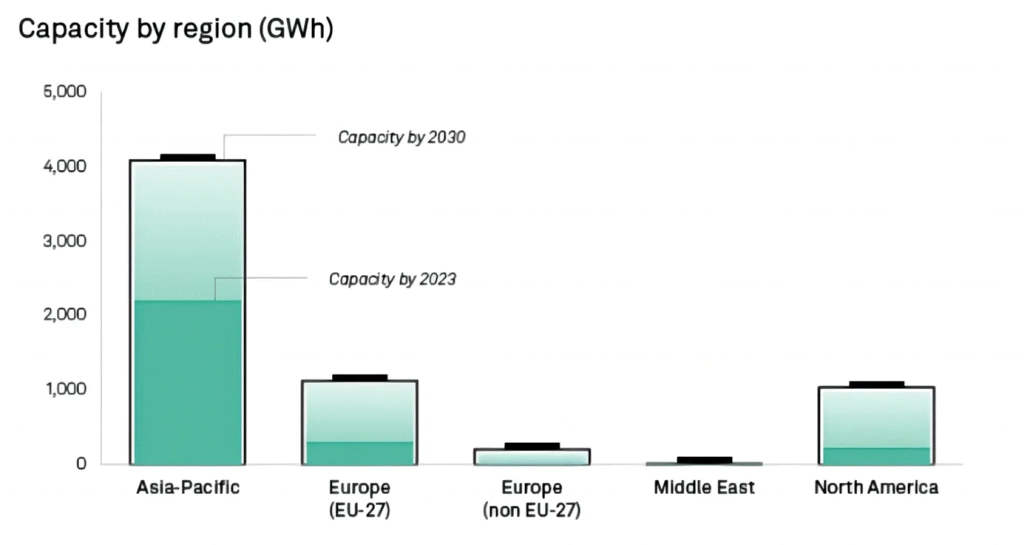 Lithium-Ion Capacity in the EU: A Triple Surge by 2030
In February, the EU greenlit a blueprint mandating that all new cars sold in the region from 2035 must be zero-emission, part of the playbook to hit climate neutrality by 2050, turbocharging the adoption of electric vehicles. The bloc is also gunning to have close to 90% of its battery demands met by EU-based manufacturers, targeting at least 550 GWh of capacity. By 2030, a projected 1 GWh of capacity is expected to be online, tripling current levels, easing the attainment of these targets.
Sweden's Northvolt AB is slated to be Europe's heavyweight, with its five plants (two in Germany, three in Sweden) anticipated to crank out 210 GWh of batteries, doubling the output of France's runner-up, Automotive Cells Company SE. ACC SE is rolling out three goliath 40 GWh plants in France, Germany, and Italy, with its Hauts-de-France plant in France set to go live this year.
By 2030, Germany's planned capacity is pegged to exceed 400 GWh, spearheading European battery manufacturing and clinching a top-three global ranking. Despite potentially 13 players in the market by 2030, announcements indicate Tesla's Berlin Gigafactory and Northvolt's twin plants are poised to churn out half of Germany's capacity for 2023. Other key contenders include Sweden, Italy, Poland, and France, each with their capacity forecasts hovering around the 100 GWh mark.
U.S. Battery Capacity Expansion: Lithium-Ion Factories Hit 315 GWh by 2030
The U.S. Inflation Reduction Act of 2022, inked into law last August, delineates a suite of procurement, assembly, and manufacturing mandates, coupled with tax incentives, to catalyze investments in the domestic electric vehicle battery arena. Since the final quarter of 2022, the U.S. has unfurled plans for nine giga-factories, slated to boost battery production by 315 GWh by 2030 — a hefty slice of the anticipated near 1 TWh total capacity, showcasing the Act's stimulative effect. Yet, the Inflation Reduction Act's impact may not have fully met market forecasts. Pre-legislation, investment cadence was already robust, with 274 GWh slated for by 2030 announced in 2021, and a surge to 506 GWh across 2022.
Despite bullish investments in battery capacity, the upstream supply chain might hit a bottleneck. Rigid sourcing stipulations mandate partnering with specific trade allies, and given the geo-specificity of resources, mining ventures have a lengthy lead time. Additionally, the conversion of mined ore to battery-grade compounds spells a more arduous journey for upstream players like miners, smelters, and refiners. While automakers are doubling down on electric vehicle production and development commitments, consumer adoption rates may not mirror this velocity, hinging on a spectrum of variables—from incentives outlined in the Inflation Reduction Act to the availability of a robust charging infrastructure and the operational feasibility of a strong national grid.
China's Lithium-Ion Dominance: A Decade Ahead in Battery Capacity
China has solidified its lead in battery capacity, a full decade ahead of other nations, also reigning as the largest EV market globally. With state subsidies concluding this past January and current economic pressures, EV production in China has seen a dip in 2023. Nonetheless, battery manufacturers maintain bullish on the long view, announcing an additional 247 GWh in capacity just within this year's first quarter.
Conclusion
The roadmap to a greener future is being paved by lithium-ion batteries, and the world is rapidly charging up to meet the demand. From China's unwavering leadership to North America's aggressive expansion and Europe's steadfast growth, the increase in lithium-ion battery capacity is a clear indicator of a global commitment to environmental stewardship and technological innovation. With India and Hungary joining the race, the expansion of lithium-ion battery manufacturing is not just about meeting the burgeoning need for EVs and energy storage solutions—it's about powering the very essence of the green revolution. As this decade unfolds, the capacity of lithium-ion batteries is set to skyrocket, promising a cleaner, more sustainable world energized by the cells of change.