Custom 60V LiFePO4 Battery | 60V Lithium Battery
In need of a wholesale power source that is both reliable and high-performance? MANLY 60V lithium battery offers adjustable specs and a plug-and-play design for easy installation. Ideal for home or industrial use, Our battery supports series and parallel application expansion for greater versatility. Upgrade today!
With a lifespan of more than 8000 cycles, each 60v lithium battery showcases its longevity. It also ensures short circuit protection. Moreover, it provides overcharge protection. Another essential feature is the inclusion of over-discharge protection. Additionally, a balanced circuit is incorporated in each product. Notably, multiple series can be connected in parallel. Each product encompasses functions like overvoltage protection, overcurrent protection, and more.
Follow a manual added link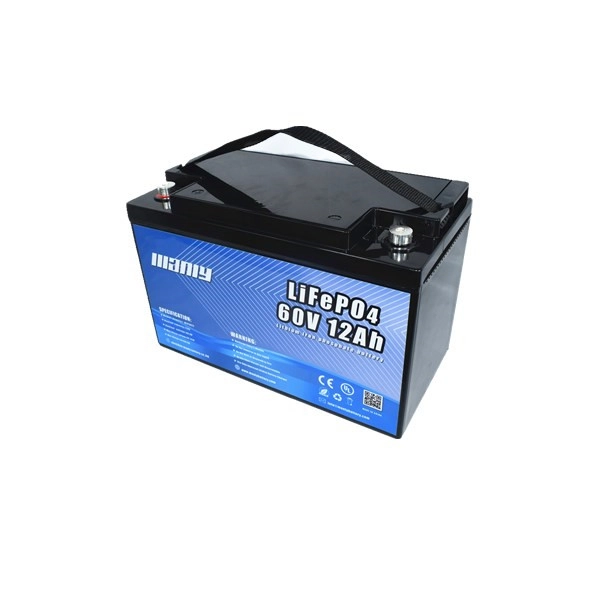 60V

12Ah

Lithium Battery 
MANLY 60v lithium battery is 1/3 lighter and smaller size than traditional battery. Due to its relatively lower capacity, it is suitable for portable electronics, small electric vehicles, or backup power solutions for essential devices.
Follow a manual added link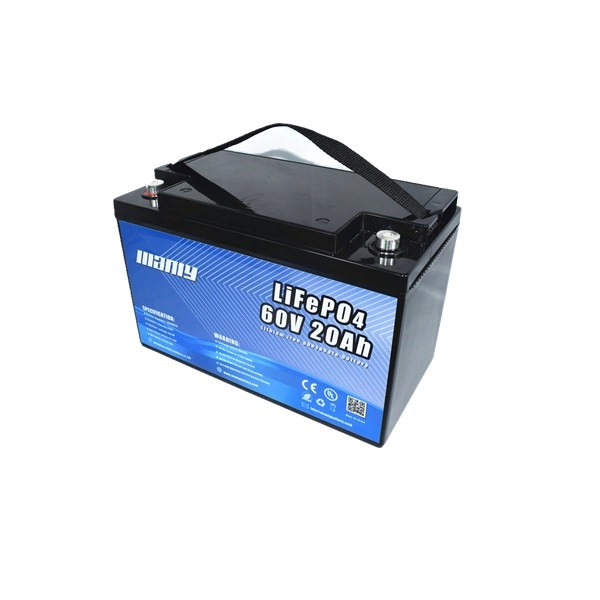 60V 20Ah Lithium Battery 
MANLY 60V Lithium Battery withstands violent impacts safely, without exploding or catching fire. This battery can power larger electronic devices, electric bicycles, or serve as a backup power source for household appliances during short power outages.
Follow a manual added link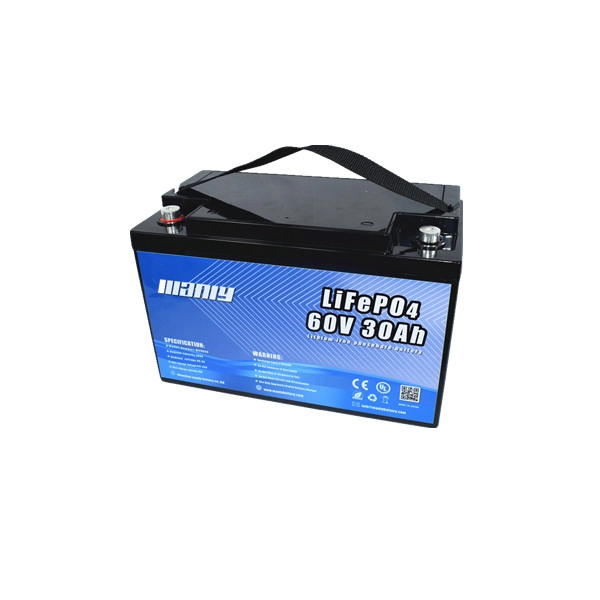 60V 30Ah Lithium Battery 
The last 20% charge of the MANLY 60V lithium battery maintains 95% efficiency, allowing for faster full charging with minimal energy consumption. This battery is suitable for powering medium-sized electric vehicles, providing extended usage times, and supporting devices with higher power requirements.
Follow a manual added link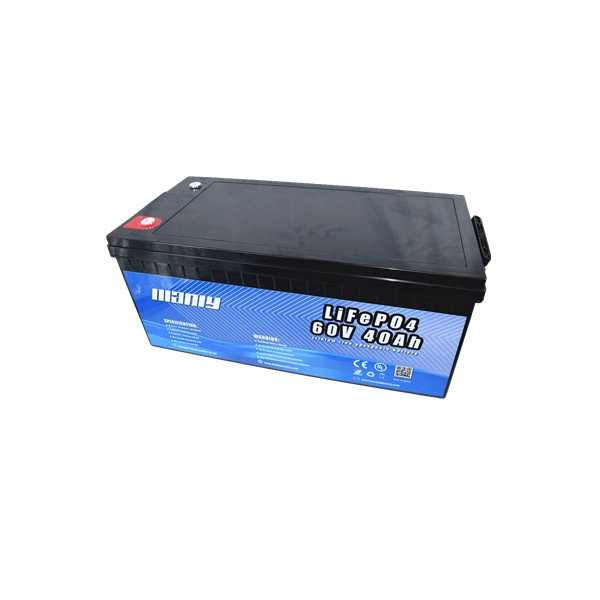 60V 40Ah Lithium Battery 
The MANLY 60V Lithium Battery has a low 2.5% self-discharge rate per month (at 77℉/25℃). It retains over two-thirds of its charge, even after a year in storage. This battery can power devices and appliances for more extended periods without the need for frequent recharging.
Follow a manual added link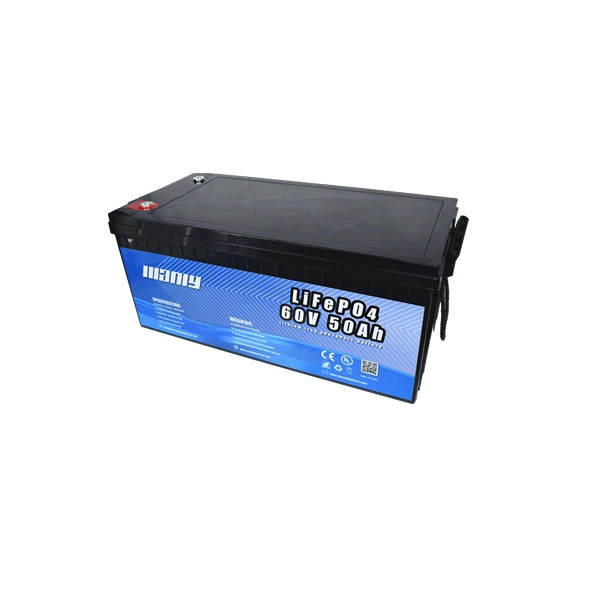 60V 50Ah Lithium Battery 
MANLY 60V 50Ah Lithium Battery features a flat voltage curve, ensuring a consistent power output as the battery discharges. Unlike similar-sized SLA batteries, there won't be a significant drop in power output. This battery is ideal for heavy-duty applications such as larger electric vehicles, high-power electric tools, or off-grid solar power systems requiring extended periods of energy storage.
Stay Updated On Battery Subscribe to our Newsletter!
Features of MANLY 60V Lithium battery:
Application of 60V lithium battery:
MANLY 60V lithium battery is your go-to power solution for high-voltage applications. Ideal for a range of industries and high-demand electric vehicles, our batteries ensure efficient and reliable operations whenever you need them. They perfectly power golf carts, sightseeing vehicles, community patrol vehicles, electric two-wheelers, mopeds, motorcycles, and even electric motorboats, allowing you to take on any adventure with confidence.
Safety and Ship:
When it comes to safety, our batteries stand strong. We've designed them to withstand rough impacts without the risk of explosion or fire, providing you with a safe, dependable power source. Rest assured, before we send them out to you, each battery undergoes stringent factory inspections to ensure maximum safety and top-notch quality.
At MANLY, we understand the value of your time, and that's why we also offer fast shipping services. With every order, you receive everything you need for installation, including 18-8 stainless steel 5/16 – 18 1" and 1 ¼" bolts, brass washers, and stainless steel nuts with nylok inserts.
Choose the MANLY 60V lithium battery for your high-voltage needs and enjoy reliable, safe power that keeps you moving. With MANLY, you're choosing not just a battery, but a trustworthy partner for your power needs.
About 60v battery:
Can you use 20v battery on 60v tool?
R:The short answer is no, you cannot use a 20V battery on a 60V tool. The voltage of the battery must match the voltage of the tool for them to be compatible and work together effectively.
Using a lower voltage battery, such as a 20V battery, with a higher voltage tool like a 60V tool, won't provide enough power for the tool to function properly. It's like trying to fill a swimming pool with a garden hose; the lower voltage battery doesn't have enough force to power the higher voltage tool.
On the other hand, if you were to use a higher voltage battery, like a 60V battery, on a 20V tool, you might run into a different problem. The higher voltage battery would have too much force for the lower voltage tool, which could potentially damage the tool or be dangerous.
Battery compatibility is crucial because using the wrong battery can not only result in poor tool performance but also cause damage to the tool and the battery. Always ensure that the battery you use matches the voltage requirement of your power tool to ensure safety and optimal performance.
How long does a 60v battery last?
R: MANLY 60V lithium battery is a power champion, boasting an astounding 8000+ cycles lifespan. For your peace of mind, we also back each of our 60V batteries with a solid 10-year warranty. Get power that lasts!
Can I use 80v battery in 60v tool?
R: When considering the use of an 80V battery in a 60V tool, several factors and considerations come into play:
Compatibility and Voltage Ratings:

Batteries are integral components of cordless power tools as they provide the required power to operate these tools. Each tool is designed to operate at a specific voltage.
An 80V battery should not be used in a tool that is designed for a 60V battery. Voltage is a measure of the electrical potential difference and represents the energy the battery can provide to the tool. An 80V battery will deliver more energy than a 60V battery, and this mismatch can result in damage to both the tool and the battery.

Risks and Hazards:

Using an 80V battery in a 60V tool can cause the tool to overheat, and the battery could be damaged. There is also a risk of the battery overheating or even exploding, leading to potential safety hazards.

Warranty Implications:

Using an incompatible battery, such as an 80V battery in a 60V tool, could void the warranty of the tool, which might leave you with costly repairs.

Specific Brands and Exceptions:

While the general guideline suggests not using batteries of different voltages interchangeably, some brands, like Greenworks, have designed their batteries to be interchangeable across different voltage tools. For instance, Greenworks' 80V batteries are compatible with both their 40V and 60V tool. However, this might not be the case for all brands, and it is essential to check the manufacturer's recommendations.

Battery Maintenance:

Proper battery care and maintenance are vital. Following the manufacturer's guidelines for charging and storing batteries can help in prolonging the battery's lifespan. Overcharging or storing a battery in extreme conditions can damage it. Cleaning the contacts on the battery and tool ensures a strong connection.