2023 U.S. Home Solar & Battery Trends
U.S. Home Solar and Battery Storage: A 2023 Analysis
Solar power and storage projects around the world are growing fast. But by 2022, only 12% of solar power systems had battery storage.
In the next ten years, solar power with storage will be key for energy changes. It helps with the on-and-off nature of renewable energy. It makes power grids more stable. It helps during extreme weather. It manages high power needs. It also offers other important services for a clean power grid.
The company Wood Mackenzie studies the solar and storage market. They look at how many solar projects have battery storage. They have a lot of data on this.
In a report, Wood Mackenzie said that in the start of 2023, 11.1% of U.S. homes with solar also had storage. 5.3% of non-home solar systems had it. Since 2019, U.S. home solar with storage has doubled. But, there have been drops for three seasons because of battery supply issues, high interest rates, and decisions in California. Non-home solar with storage grew slower. It went up only 2% since 2019.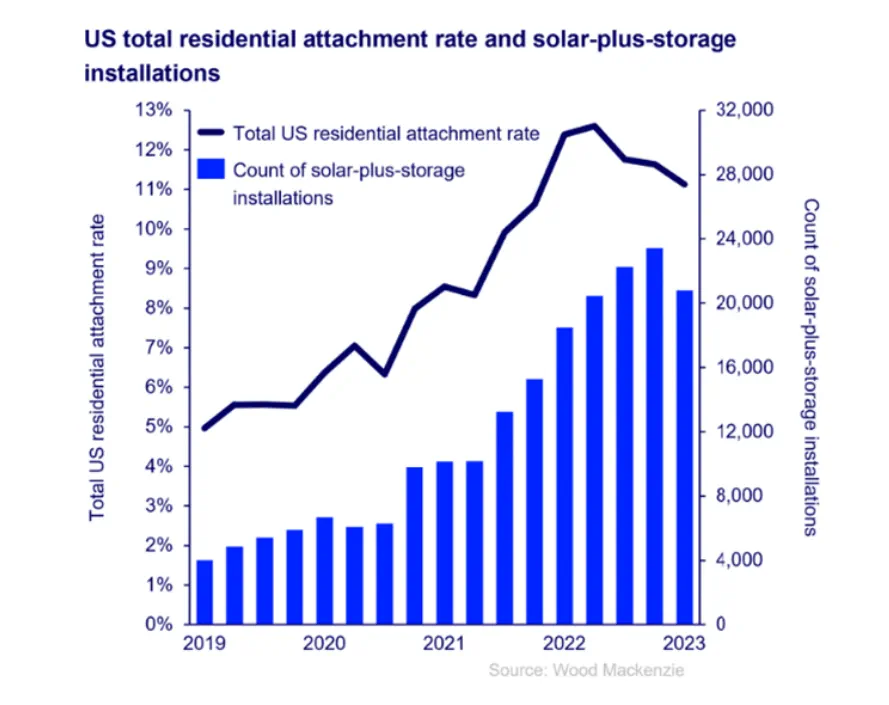 Top U.S. Markets Dominating the Solar and Storage Scene
Most solar and storage projects in the U.S. are in a few places. The big places for home solar and storage are California, Puerto Rico, Texas, and Hawaii. In 2022, these places had 67,200 solar and storage projects. That's 79% of all U.S. home projects.
Also, only five U.S. places have more than 10% of homes with solar and storage. They are California, Hawaii, Vermont, Puerto Rico, and Utah.
For non-home solar, like for businesses and communities, sizes vary. They range from small 20kW rooftop solar to big 5MW community solar fields. Data from Wood Mackenzie shows that bigger solar projects often have storage too. So, the percentage of non-home solar with storage doesn't tell us much about the industry. For instance, big solar projects in Massachusetts and New York with storage affect this number a lot.
The Four Drivers Boosting Solar and Storage Adoption
Four main things push the use of storage with solar: rewards for using storage, changing rules, chances to help the power grid, and issues with grid reliability.
Connecticut and New Jersey are offering rewards for storage. North Carolina, Indiana, Idaho, and California are changing their prices. Bad weather affecting the power grid means more people want storage.
Still, California has the biggest solar and storage market. It has all four pushing factors. California also started a new pricing rule. This will make more solar projects use storage.
California's new rule gives clues to storage makers and developers. In 2022, top solar and storage companies in California had rates from 5% to 73%. How these rates change with the new rewards will be interesting. Companies with higher rates now might do better. They focus on
storage.
In California, product supply keeps growing. One trend is markets that help customers get the most value from their solar. This strategy shows early signs of working. It can be used in other places with different pricing rules.
Lastly, in California, more old solar projects are adding storage. In 2022, PG&E had 6,380 such projects. That's 38% more than 2021. To get new customers, utility sales teams need plans. They should target people who already have solar.