Top 5 Lithium Battery Manufacturers for 48v LiFePO4
48v lithium batteries are necessary for a massive variety of uses. They can be used to power low-speed vehicles such as golf carts, power a telecommunications system in the field, or even store power for a residential or commercial renewable energy system. Those are just three possibilities, but they're used in tons of industries and everyday use needs every single day.
With something that is so crucial to modern daily life, buying a random generic option simply won't do. You need something that is made to the highest quality standards and designed to last.
Today, we're going to compare some of the best battery supplier options on the market for 48v lithium batteries.
Let's get started.
How Our List Works
First and foremost, we need to go over how our list works so you're not confused about how each option stacks up against the other.
We're going to start with our best option for all uses in the #1 slot, and we'll work our way down through great alternatives for more niche uses or ones that don't quite match up to the top battery but do still perform very well in comparison to their price.
1: MANLY 48v 100ah LifePO4 Battery
MANLY Battery is the most impressive battery supplier on the market. Whether you're looking for a 48v solar battery, a 12v mobility scooter battery, or a customized lithium battery solution for a unique industrial machine, MANLY has you covered.
This, paired with the brand's dedication to quality and features, is why MANLY has to come in first for our 48v battery recommendations.
The 48v 100ah LiFePO4 battery from MANLY features a longer lifespan, faster charging, and better overall power retention with age and discharge than any of the other batteries we're going to talk about.
However, there are other great features that sweeten the deal.
This lithium battery can maintain its performance in extremely hot or cold climates. That's helpful since many 48v batteries are used in outdoor situations where you simply can't control the environment's temperature. You don't have to worry about the battery failing, bursting, or not performing at its peak just because the weather isn't perfect.
Then, there are the safety features that MANLY uses in its lithium batteries. The MANLY 48v 100ah LifePO4 battery is packed with short circuit protection, overcurrent protection, high-quality cell chambers to protect against impacts, and temperature shutoffs to prevent damage to the battery. This reduces the risk of fire hazards to almost nothing, and it makes the MANLY battery one of the safest options available; a crucial trait for batteries that are often exposed to harsh conditions and prolonged use.
Overall, MANLY Battery's 48v 100ah lithium battery is the best of the best. You can rely on it for practically any use that requires a 48v battery, and you can trust that it's going to perform admirably. On top of that, MANLY features a bulletproof warranty and 24/7 customer service. Plus, custom batteries are available for those battery needs that just aren't met by off-the-shelf battery options.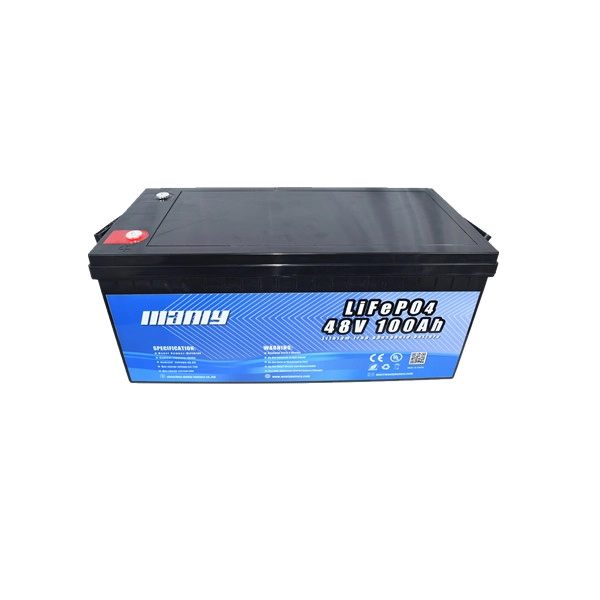 2: SimpliPhi 48v
SimpliPhi is a unique battery company focused on producing green energy. The SimpliPhi 3.8-M is the company's claim to fame, and it's centered around the lack of cobalt and other materials that are sometimes controversial. Overall, the brand focuses its image on social issues, natural preservation, and working toward a better future.
It's a 48v battery, and it shares a lot in common with the majority of lithium batteries. It is clearly better than lead-acid, and the brand does include things like a BMS (battery management system) and overcurrent protection. However, it lacks many advanced protection features.
This battery is also mostly aimed at renewable energy tech. It's used to store power from solar panels, power low-emission recreational vehicles, and similar things. It's not limited to that, but the marketing and brand goals align with those uses.
Overall, this can be a decent option if you're looking to use it in a "green" use. It does lack some necessary features for hard uses in outdoor environments and other complex needs, though.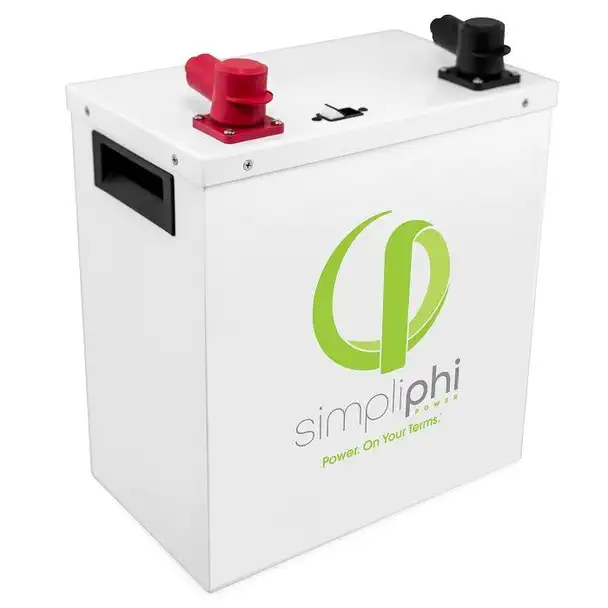 3: PowerPlus
PowerPlus is an old company with plenty of brand recognition, and that's why it's making the list. It does have a history of producing good batteries, and the company is known for trying to stay ahead of the curve. In some areas, it does stand up to our top pick, but not in all of them.
The PowerPlus 48v comes in both Premium and Eco series variations, and the main difference is that the Eco series is built to be a little cheaper and environmentally friendly, but it sacrifices a little power.
There is one main issue with the PowerPlus 48v. It's primarily designed as a 48v solar battery. This is a major drawback despite the brand's recognition and longevity because it's a limitation on the battery's use. It's possible to use it for other reasons, but it's not designed for that.
It does however feature most of the most recent safety features, and it's designed to be resilient. So, it shouldn't pose a safety threat if you go to use it.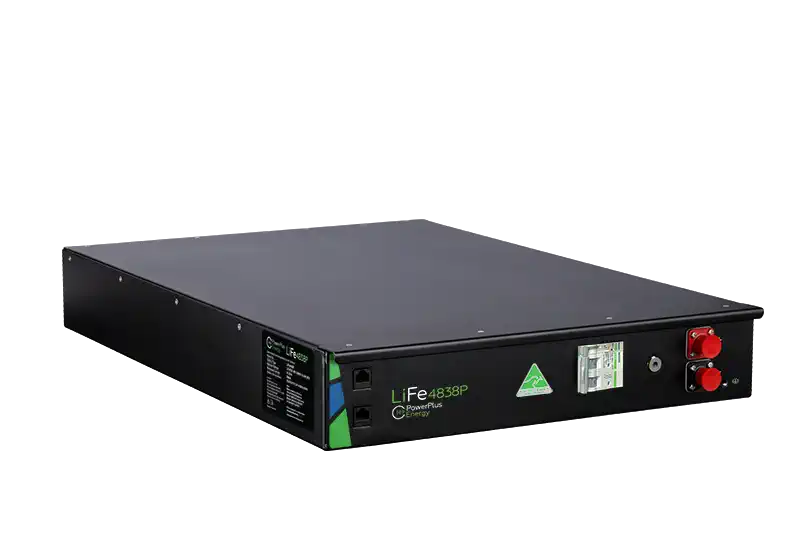 4: Big Battery Lynx
Big Battery's 48v option is in a unique position on this list. We're focusing on highlighting the best options possible, but cost is a factor in that. For the price, Big Battery's Lynx 48v does a great job.
First, the brand positioning of Big Battery is to provide cost-effective options. That means that corners are cut and sacrifices are made to ensure that the final product falls into a price range that the company's customers are willing to pay.
This is not optimal in the majority of situations, because batteries can be dangerous, and they often power things that must have reliable power; such as your home's solar-powered energy system or a recreational vehicle you're using in the middle of nowhere.
With that being said, the batteries do boast a reasonable lifespan and capacity, and they do have basic safety features to ensure they don't suffer catastrophic failures.
One high-tech feature this battery does have is a digital voltmeter. You can very easily see how much power you're using, how much is left in the battery before a charge is required, and other vital bits of information.
This makes the Big Battery 48v a great option if you need it for a cheap project you're working on, as a backup in case your good battery dies unexpectedly, or in other situations where you're not entirely reliant on the battery for serious reasons.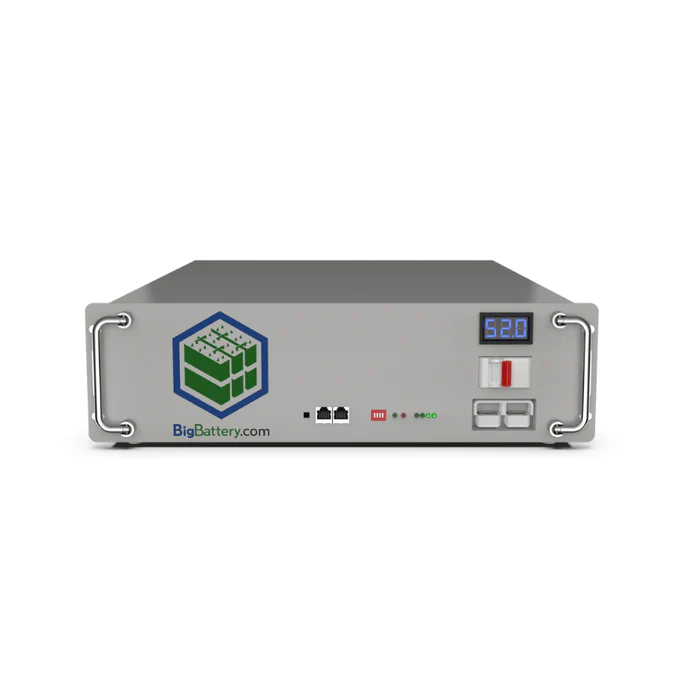 5: HUMLESS 5kwh LifePO4
Finally, we're going to wrap this list up with a renowned brand in residential power storage. HUMLESS is based out of Utah, and its 48v LifePO4 battery is built to last. It's designed to be used for residential power storage. So, it's most likely going to be used primarily to store energy from solar panels.
For a residential solution, this can be a good option. It's USA-made, and the price is a bit higher than other options, but not by too much.
The main issue is that it only has 14 parallel connections, and if you have a big system of solar panels, that might not be enough. That greatly reduces its usefulness in a large number of situations.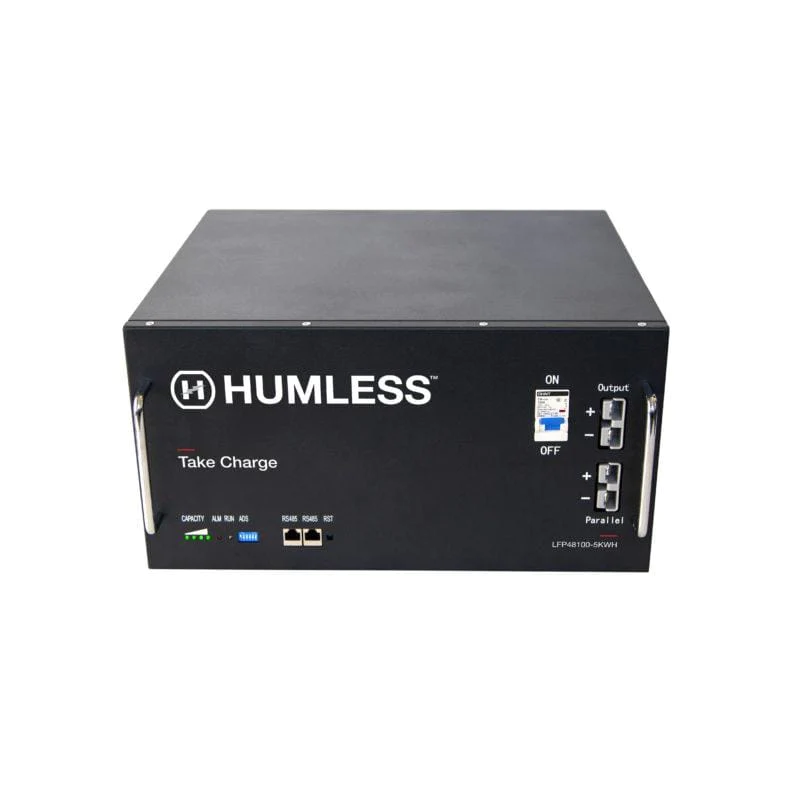 Which One Should You Choose?
The winner for most users is going to be pretty obvious. It's the MANLY battery. MANLY has been in the industry for more than a decade, offers a great warranty, and has 24/7 customer service on top of great prices.
However, it's the quality of the product that really stands out. You get a flexible 48v 100ah LifePO4 battery that's built to last, and you get all the best features available. From top-of-the-line safety features to simple things like digital displays, the MANLY battery stands out as the best general option.
However, there might be unique situations where simply picking the best 48v battery isn't the best decision.
That's why it's important to look at each option, and then consider a few factors.
1: Your Budget
If you can't afford the best, and saving for it isn't an option, there isn't much you can do. Your budget obviously determines a lot regarding your buying decisions. So, look at how much you can actually afford to spend, and get the best 48v batteries you can afford.
2: Intended Use
What are you planning to use the battery for? Is it a primary battery that will be relied on heavily, or is it a cheap backup just in case you need it?
If it's not a serious usage, you can probably afford to buy a cheaper option that meets your other needs.
However, don't go too cheap, and don't cut corners in key areas. Batteries can be dangerous when you buy cheap options and overuse them.
3: Your Need for After-Purchase Care
Finally, after-service care is a crucial aspect to look at. If anything goes wrong, you might need to call the company and find a resolution. Make sure you choose a battery option backed by a company that cares.