Lithium Battery Plant in Hungary by EVE Energy


EVE Energy Updates on Two Overseas Lithium Battery Bases
News broke on May 13th that this week, EVE Energy made two significant announcements regarding its overseas operations. On May 9th, EVE Energy announced it had purchased land in Debrecen, Hungary, for the construction of a battery factory. This factory will supply large cylindrical batteries to the BMW Group's Debrecen factory.
On May 12th, EVE Energy revealed plans for its wholly-owned subsidiary, EVE Malaysia, to purchase land from PKL. This purchase will allow for the establishment of a lithium battery manufacturing plant locally.
Delving into specifics, on May 9th, EVE Energy entered into a land purchase agreement with a subsidiary of the Debrecen government in Hungary. The land, located in the northwestern industrial area of Debrecen, will be used for the production of cylindrical power batteries.
The EVE Energy factory in Hungary is situated in the northwestern economic zone of Debrecen. It spans 450,000 square meters and will mainly produce large cylindrical batteries. The project is set to complete and commence operations in 2026. Based on the total land area, the purchase price is 12,858,750 Euros (approximately 97.76 million RMB).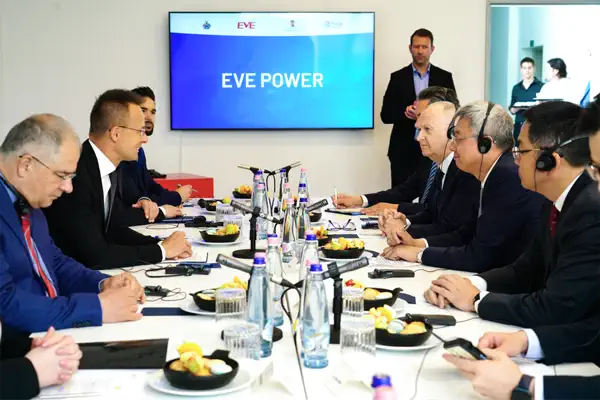 EVE Lithium's Battery Factory in Debrucen to Invest 1 Billion Euros
According to foreign media, Hungarian Foreign Minister Peter Szijjarto stated that EVE Energy's battery factory in Debrecen will invest 1 billion Euros (approximately 1.1 billion USD). The large cylindrical batteries produced will supply BMW cars. Additionally, Szijjarto mentioned that the Hungarian government will subsidize EVE Energy's investment by 14 billion Hungarian Forints (approximately 37.66 million Euros).
The 46 large cylindrical batteries produced by EVE Energy's Hungarian factory possess high energy density, small size, and lightweight characteristics. These traits allow for a 30% increase in both range and quick charge capabilities. Moreover, the Hungarian factory is committed to digitized manufacturing. Utilizing artificial intelligence systems and digital platforms, it ensures the production of superior quality large cylindrical batteries to power BMW's high-end electric vehicles.
BMW Group's Vice President of External Affairs, Glenn Schmidt, stated that BMW aims to achieve local battery support at their automobile production factories. The close proximity of EVE Energy's Hungarian factory to BMW's iFactory aligns perfectly with BMW's localization principle. This close collaboration between the two will promote sustainable development in Debrecen's automotive industry.
Moreover, during its 2022 performance briefing, EVE Energy stated it had completed the layout of high-energy density large cylindrical batteries like the 46 series. It has planned production capacity in areas like Jingmen in Hubei, Chengdu in Sichuan, and Shenyang in Liaoning, and has received orders from leading domestic and international automotive customers like Chengdu Dayun and BMW Germany.
Regarding the Malaysian factory, on May 12th, EVE Energy Malaysia signed a memorandum of understanding for the purchase of land for the Malaysian factory with Pemaju Kelang Lama Sdn. Bhd. (PKL) in Kuala Lumpur.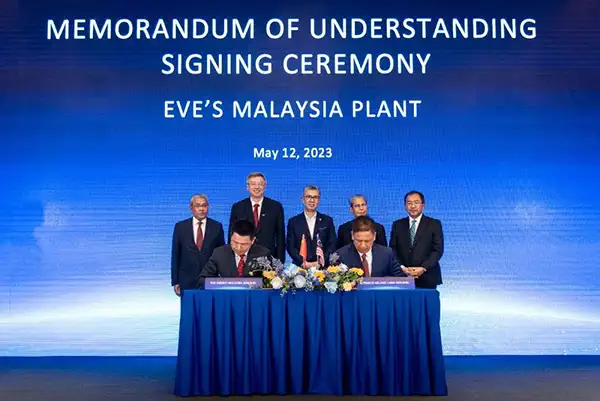 EVE Lithium: Malaysia Lithium Battery Factory <$42.23M
EVE Energy stated that its 53rd factory, located in Kulim, Kedah, Malaysia, will be an international cylindrical battery industrial park. With an investment of no more than 422.3 million USD, it will primarily produce cylindrical batteries and create around 600 jobs.
According to reports, EVE Lithium Energy's Malaysia factory specializes in producing 21700 cylindrical batteries for electric tools and electric scooters. Currently, EVE Lithium Energy possesses the production capacity and technical reserves for such products and aims to expand its production supply to meet the downstream customers' demands. This expansion ensures that EVE Lithium Energy remains focused on industry-leading products and strengthens its position in the cylindrical battery sector, supporting cost-effective 21700 batteries for electric scooters and electric tools.
It is worth noting that EVE Lithium Energy has disclosed in its latest investor relations activity report that the company's battery products have strong international competitiveness and have been supplying to top-tier overseas customers in bulk. As per the company's latest equity incentive plan, the revenue target for 2023 is set at 70 billion yuan.